ELA 9 What we've been up to…
In Term 2 for our class, we've studied many different kinds of texts, played with different techniques in writing, and worked on building skills.
We studied the graphic novel The Breadwinner.
students had to use visual inference skills a lot to make sense of the storyline since there wasn't as much text and dialogue

Each student chose their own novel to read – most chose a book different from others and one group picked the same book to read together.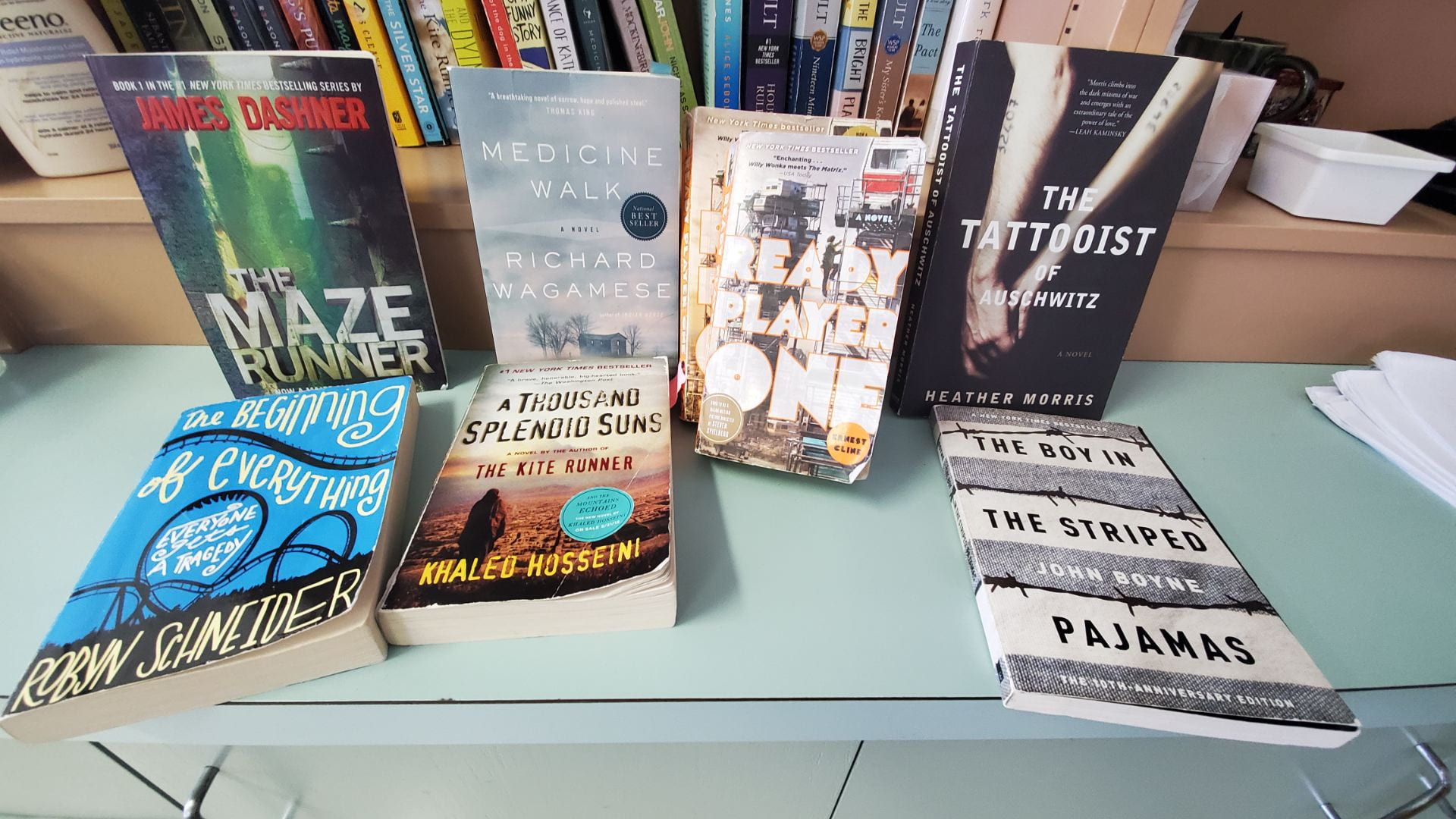 They read during class and would do short Summary activities like:
They practiced some creative writing & visual fun with Five-Step Stories. Students picked a random image for the Intro, 3 images for the middle, and 1 image for the end of a hypothetical story. Then another student had to come up with a storyline to match the random images. It was worth some laughs.

We also started a unit focusing on Search for Self – students learned (or reviewed) Figurative Devices used for creative wordplay in poetry.
They developed some of their own with Six-Word Memoirs that they then formatted in a visual design using the Canva website.

They read through together a new-to-them format of texts – novels written in prose form (poems). While we read through them together, students anonymously submitted Observations through a Socrative open-answer activity.


They also tested their skills in identifying these plays-on-words (figurative devices) by a group competition activity – to see which group could wrack up the most points for devices found in a poem.
We then watched a movie called A Monster Calls which none of them had seen and was the most wonderful movie; it brought on a lot in our discussions.
They tracked the things they observed in the film as they watched (character influences, foreshadowing, development of tension, motivation of characters, etc)
And then got into some small discussion groups to talk through a number of a bank of questions to pick from.
Most recently, they've been working to develop a poetry multimedia video from a poem of their choosing. They had to develop an emotional reading of the poem, find media (video, images, sound effects) to include, as well as pick appropriate background music to help set the tone. They used different video-making programs that mostly work in similar fashions. They focused on improving their use of:
staggering the layers of media they used (so an image and sound didn't start at the same time)
including a clear beginning and end to their projects
using transitions between the media sources
tweaking sound volumes, fading in and out
using text overlay
studying their project for the details of style

They're improving their writing by many writing activities, because more writing makes better writers. And we've had a lot of great discussions analyzing ideas and literary themes.
More to come before June!